Who is online?
In total there is
1
user online :: 0 Registered, 0 Hidden and 1 Guest
None
Most users ever online was
19
on Sat Nov 01, 2014 8:20 pm
Magellan is an earth type pet.
Magellan is very weak xD in fact i think its the weakest npc pet in the game lolxD So I advice all who want Frederico , to get Magellan (to get the star) before they kill Clive in Revival Island
Conditions
=========
1=>A man in bar
Reward =>kings certification
Follow this map and complete the quest in second floor of this Bar

2=>A Pirate who turns over a new leaf
this is the
Clive quest
, which must be completed to get magellan
Reward =>Clive joins team
Quest
=====
Step 1>
First u must go to Magellan's fleet(shown on map below) with King's Certificate and Clive in your team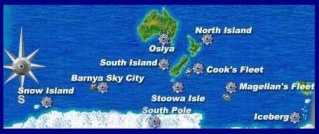 Step 2>
Talk to 3 people there, fight with them, after u beat them, they tell u that Magellan is in Blackwind Cave(Clive quest pirate cave)


Step 4>
Back to Blackwind cave and talk to this pirate guarding the door.then go in and follow map to pirate ship

FIGHTS
=====
Once you are in pirate ship, go to lower deck and talk to Magellan in the room(Magellan will not talk until u set Clive in your team as battle). Beat the 8 pirates there(Fight1), and then move to upper deck. Dismiss one member from your team( you need a team of 3 people in this fight(like Kanako quest) Magellan joins your team as 4th member), then talk to Magellan,then 12 more pirates come and fight, after u beat them, talk to Magellan and he joins your team
You can use the same kinda strategies in Kanako quest here (see Hugo's replay there if u need to know order to attack)
Fight1
= (lower deck) 8 pirates lvl 80 HP = about 724
Fight2
= 12 pirates lvl 80 HP = 724, start with 8 pirates then as each pirate dies 4 more comes as reinforcement
Reward=> 1 Star,1 10% capsule, Magellan joins your team
NOTE=>
if u have any difficulty or problems with doing this quest (like npc people not talking to you) MAKE SURE, you have Clive in team and have king's certification, this is a common error in this quest.
================================

Similar topics
---
Permissions in this forum:
You
cannot
reply to topics in this forum